India has always been known as a land where people of different religions have and are lived together in harmony and peace. Principally a Hindu country, the culture of India has been influenced by various other religions including Buddhism, where it all began. Buddhism is amongst the major religions in India and a lot of Buddhism followers (Buddhists) spread across the length and breadth of the country. Being the birthplace of Buddhism, India is dotted with several significant revered as well as tourist destinations. In the following write-up, we have mentioned some of the most famous tourist destinations in India.
Bodhgaya
The topmost destination in the list of Buddhist tourist destinations present in India is the Bodhgaya. In fact, it is one of the four most sacred Buddhist sites in India. Situated about 13 KM from Gaya in the state of Bihar, this site draws a huge of Buddhist followers not only from India but across the world. According to the legends, it is the place where Gautam Buddha achieved enlightenment while meditating under a Peepal tree. It is also the place, where Mahabodhi temple, a World Heritage site is also located. Apart from the temples, you may visit several monasteries and Tibetan style monasteries, where various monks live.
Sarnath
Varanasi is a major pilgrimage centre in India, which has been sustained since ever. Sarnath is located just 10 KM away from the city and visited by Buddhist followers from around the world. As per ancient scripts, Sarnath is the place where Lord Buddha arrived soon after he attained the enlightenment. The mighty Emperor Ashoka of India, who revered Buddhism visited this place in 234 BC and built a Stupa of Buddha here. Right from the 3rd Century BC to 11th century AD, various structures related to Buddha were erected at this place. Some of them, which are popular even today are Mulgandha Kuti Vihar, Sarnath Museum, Chaukhandi Stupa and Dhamek Stupa.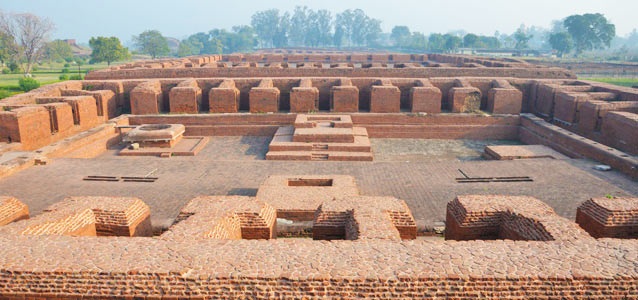 Nalanda
Nalanda is famous for its age old university (in Bihar) and attracts a huge number of Buddhist and non-Buddhist tourists every year. Tourists come here to see the ruins of the old university. Nalanda also has a significant place in the history for being the site, where Lord Buddha and Lord Mahavira visited normally during the 6th century BC. Moreover, Nalanda is the birthplace of Sariputra, who was one of the chief disciples of Lord Buddha. While visiting Nalanda, don not miss a visit to Nava Nalanda Mahavira, which is popular for its Buddhist culture and Pali literature.
Delhi
Coming as a surprise, but the Capital city of India, Delhi is also counted as one of the significant Buddhist places in India. The charming city houses "World Buddhist Centre", which is a famous meditation retreat for Buddhists. Followers of Buddhism come here from all across India to relax and meditate. World Buddhist Centre was established in the year 1996 and is rated among the most famous Buddhist temples in India. Located in the heart of South Delhi, this centre has a very calm and serene environment. People from all walks of life come here to get away from the hustle and bustle of their daily life to learn meditation. The centre jointly managed by Indian and Japanese monks has a meditation room, lecture room and a Japanese styled dining room.
Log on to EaseMyTrip.com and book your flight tickets/tour now! You can also follow us Facebook, Twitter and Google+.